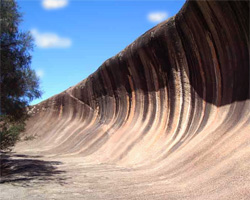 &nbsp
Wave Rock is a natural large stone formation in Western Australia near the town of Hyden. The formation is said to be many millions of years old and contains strips of grey and red granite in the wave formation.
Its rounded wave-like shape, formed by weathering and water erosion, reaches 15 metres in height and extends 110 metres in length.
Nearby there are other rock formations such as the Hippo's yawn, The Falls and the Breakers.