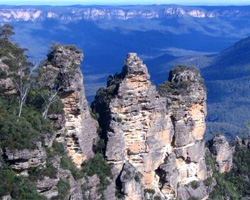 The
Three Sisters
are part of the Blue Mountains National Park which is located just an hours drive west of Sydney. The formation is named after the Aboriginal dreamtime story of three sisters named Meehni, Wimlah and Gunnedoo who lived with their father.
The Blue Mountains National Park area itself was originally formed many thousands of years ago from the sediment of a very large river system which over the years have eroded the surrounding landscape to form the multitude of deep valleys and relatively high peaks we find today.
The Blue Mountains earned their name from the distinctive and deep blue haze caused by scattered rays of light coming in contact with fine dust particles and droplets of oil dispersed from the eucalyptus trees in the valleys.