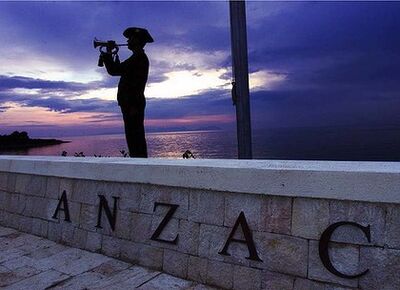 ANZAC is the acronym formed from the initial letters of the Australian and New Zealand Army Corps, the formation into which Australian and New Zealand soldiers were grouped in Egypt prior to the landing at Gallipoli in April 1915.
First written as A. & N. Z. Army Corps, it soon became A. N. Z. A. C. and the new word was so obvious that the full stops were omitted. The word was initially used to refer to the cove where the Australians and New Zealanders landed and soon after, to the men themselves. An ANZAC was a man who was at the Landing and who fought at Gallipoli, but later it came to mean any Australian or New Zealand soldier of the First World War. An ANZAC who served at Gallipoli was given an A badge which was attached to his colour patch.
Ad blocker interference detected!
Wikia is a free-to-use site that makes money from advertising. We have a modified experience for viewers using ad blockers

Wikia is not accessible if you've made further modifications. Remove the custom ad blocker rule(s) and the page will load as expected.