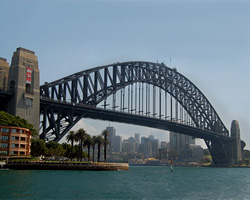 The
Sydney Harbour Bridge
construction started in 1923 from the design by Dorman Long and Co's Consulting Engineer, Sir Ralph Freeman. It took 1400 men eight years to build and includes six million hand driven rivets and 53,000 tonnes of steel making up its construction. 272,000 litres of paint were required to give the Bridge its initial three coats!
Sadly, sixteen workers died during construction, but surprisingly only two from falling off the bridge.
It now carries eight traffic lanes and two rail lines and almost 200,000 cars per day cross the bridge. It is the world's largest steel arch bridge with the top of the bridge standing 134 metres above the harbour
Ad blocker interference detected!
Wikia is a free-to-use site that makes money from advertising. We have a modified experience for viewers using ad blockers

Wikia is not accessible if you've made further modifications. Remove the custom ad blocker rule(s) and the page will load as expected.