Simple info
Edit
Born: January, 1855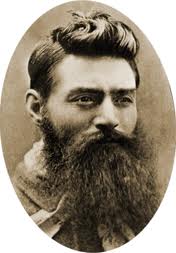 Place born: Beveridge, Victoria Died: 11 November, 1880 Where died: Melbourne gaol Cause of death: Hung Religion: Roman Catholic Nationality: Born in Australia, parents are Irish
The Biography
Edit
Ned Kelly, the brave bushranger who had a strong enemy with only three people on his side, is known for fighting for what he thinks is right. The Kelly family is known for stealing a lot of cattle and the main "good thing" that the family did was when Ned Kelly rescued a 7 year old boy from drowning. He received a green sash with a gold fringe that he wore on the siege of Glenrowan. In 1866, Ned Kelly's father died and Ned signed the official death registration.
Ned Kelly learnt how to be a bush-ranger and bush survival skills from ex-convict Henry Johnstone in 1869-70. He was later arrested for being Henry Johnstone's accomplice but he was later released because there wasn't enough evidence. In 1871, he was arrested for riding a stolen horse but Ned says that he didn't know the horse was stolen when he rode it.
In 1874, Ned Kelly started boxing and he won a 20-round boxing match without gloves against "Wild Wright". In the April of 1878, Ned and his brother, Dan went panning for gold and started illegally distilling liquor.
On the 26th of October, 1878, the battle at Stringybark creek began and three police officers were shot died. An 800 pound reward for the arrest of the whole Kelly gang was issued.
At November, the reward for the Kelly gang was increased to 2000 pounds and the Kelly gang was considered "outlaws". The next month, the Kelly gang robbed 2260 pounds from a bank and the reward for the Kelly gang was increased to 2500 pounds. In the February of 1879, the Kelly gang robbed another bank and stole 2414 pounds and the reward for the Kelly gang in NSW was increased to 4000 pounds and in VIC, 8000 pounds.
In the Glenrowan siege, the Kelly gang was destroyed. First, John Bryne was shot and killed. Next, Ned was captured after being shot in the legs. Last, Dan Kelly and Steve Hart died inside the inn probably because of suicide. Ned Kelly died when he was hung at the Melbourne gaol at 11 November, 1880. His final words were 'Such is life'.
Kelly Armour
Edit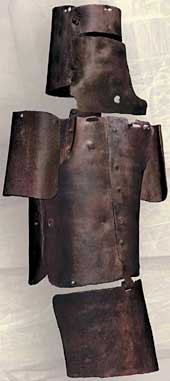 The armour held by the State Library includes Ned Kelly's helmet, backplate, breastplate and shoulderplate. Crudely constructed from parts of ploughs, pieces of leather, and iron bolts, the armour was assembled and tested by the gang in the year before the Glenrowan raid.