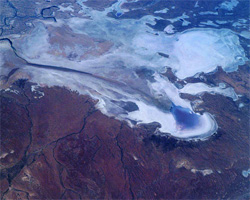 Lake Eyre
, in South Australia, is Australia's largest salt lake, situated in the driest region in the country to the east and north-east of the lake lie the Tirari, Strzelecki and Sturt Stony deserts, for most, inhospitable environments. When dry, much like in the photo to the left - which is its usual state, the lake bed is a glistening sheet of white salt.
When the lake does fill which has only been on three occasions in the last century, it becomes temporarily Australia's largest lake as it spreads out to 9500 square kilometres.
The lake itself was named after Edward John Eyre who in 1840 became the first European to sight it. 
Ad blocker interference detected!
Wikia is a free-to-use site that makes money from advertising. We have a modified experience for viewers using ad blockers

Wikia is not accessible if you've made further modifications. Remove the custom ad blocker rule(s) and the page will load as expected.