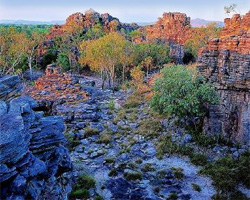 The World Heritage Listed
Kakadu National Park
is a unique archaeological and ethnological reserve, located in the Northern Territory. Inhabited continuously for more than 40,000 years it features cave paintings, rock carvings and archaeological sites that have recorded the skills and way of life of the region's inhabitants.
The most prominent physical feature in Kakadu is the Arnhem Land Escarpment, a 1.6 billion-year-old sandstone cliff that stretches for miles across the park. The cliff, which hosts many waterfalls, is surrounded by towers of sandstone, rainforests, and swamps. It is also one of the most remote and wild regions of the country, filled with tropical forests, torrential monsoons, high humidity, wild animals, and few people.
The park's 10,000 sq kilometers of woodlands, wetlands, and floodplains are home to an amazing array of wildlife, including more than 300 species of birds, 75 species of reptiles, 50 species of mammals, 1,500 species of butterflies and moths, 50 species of fish, 25 species of frogs, and thousands of species of plants, many of which remain unclassified.